ASHA Registry and Certificates
How do I submit my ASHA CEU information?
If you have entered your ASHA number in your PRC-Saltillo account, we will automatically submit your CEU information to the ASHA Registry after successful class completion.
How do I add my ASHA CEU number to my PRC-Saltillo account?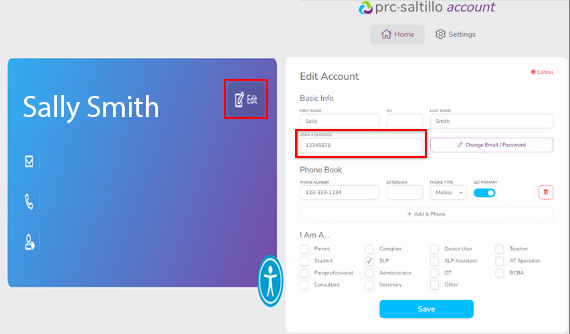 You can update your account to include your ASHA number. Please note you will need to log out of AAC Learning Journey and back in for the updates to take effect.
What if I don't want PRC-Saltillo to submit my ASHA CEUs?
If you do not wish PRC-Saltillo to submit completed classes offering ASHA CEUs, do not include an ASHA number in your PRC-Saltillo account. You will submit on your own.
How long will it take to process my ASHA CEUs?
For eLearning (self-guided) classes, ASHA CEUs are processed monthly; therefore, your end date on your transcript will be the last day of the month.
For all classes (live online/in-person, eLearn), please allow 9-12 weeks from your submission date for the class to appear on your transcript.
Will I receive a certificate of attendance/completion?
A certificate of attendance/completion is available to you within two weeks upon completion of the class.
ASHA Information
An annual ASHA CE Registry fee is required to register ASHA CEUs. ASHA CE Registry fees are paid by the participant directly to the ASHA National Office. The annual ASHA CE Registry fee allows registration of an unlimited number of ASHA CEUs for the calendar year. Contact the ASHA CE staff at 800-498-2071 ext. 8591 for CE Registry fee subscription information: www.asha.org
PRC-Saltillo licenses a patented technology that is in PRC-Saltillo products trademarked as ACCENT®, ChatFusion™, NovaChat®, PRiO®, TouchChat®, TouchChat® Express, Look™, NuEye®, and NuPoint®, as well as software (CoreScanner™, Engage, Essence®, VocabPC™, MutiChat15, UNIDAD®, Unity®, WordPower™, LAMP Words for Life® – Spanish/English, LAMP Words for Life® – VI, TouchChat® app). PRC-Saltill also has registered five websites, aacapps.com, aaclanguagelab.com, exploreaac.com, realizelanguage.com, touchchatapp.com, and alpforaac.com. The Language Acquisition through Motor Planning (LAMP) approach is taught by the Center for AAC and Autism.
Content Disclosure: Because there are no other like-kind products available, course offerings will only cover information that pertains to the effective and safe use of the above-names products/softwares/websites.
PRC presentations will focus exclusively on Accent, PRiO, NuEye, Look, NuPoint, Unity, UNIDAD, LAMP Words for Life, LAMP Words for Life – Sp/En, LAMP Words for Life – VI, CoreScanner, Essence, WordPower, Explore AAC, Realize Language, or AAC language Lab and will not include information regarding other similar or related augmentative and alternative communication (AAC) devices or software.
Saltillo presentations will focus exclusively on ChatFusion, NovaChat, TouchChat, VocabPC, MultiChat15, WordPower, TouchChat app, Explore AAC, or TouchChat website.